You're very smart. So, wouldn't you like to work smarter, instead of harder? Work privately, early mornings for lavish, full-time earnings. Meet local people who do. They will teach you what they know. I promise, you've never heard the secrets of earning wealth this way.
Why Forex?
The Foreign Exchange Market is a form of exchange for the trading of international currencies. By using this platform in a proper manner you will get the opportunity to achieve the lifestyle you want.
What you don't need
Employees, offices or buildings, license or insurance, products, vendors, marketing or even customers.
What you will have
24 hours access to the market. Freedom to trade from anywhere there is an internet connection. The opportunity to increase your income without your workload. Job security in any country where public trading exists. Unmatched financial liquidity. Complete control of your lifestyle.
What does it cost?
The tuition fee for 3 months of mentorship is $3,500. In case something comes in your way and 3 months are not enough - no worries, we won't let you down. We do NOT sell a piece of software to you and then leave you alone! Safe trading isn't only about software and skills, what you need is guidance. Compare our tuition fee and income to those of other occupations at the bottom of this page.
If you are tired of MLM, ownership, bosses, time clock or the daily grind on the sales floor, this is for you! Regular people get the opportunity to change their careers and lives by working 20 hours per week. You will be empowered with the skills and confidence to daily trade the currency markets for profit. Starting with as little as $50 in your own trading account any serious person can realistically expect to replace (or double) their income - or reach most other stated financial goal - within a year. You can enjoy 100% job security, constant growth and create ongoing wealth for yourself and your family!
FX365i is a brick and mortar teaching and trading facility in Oceanside, CA, teaching the general public to trade safely and successfully in their own FOREX accounts.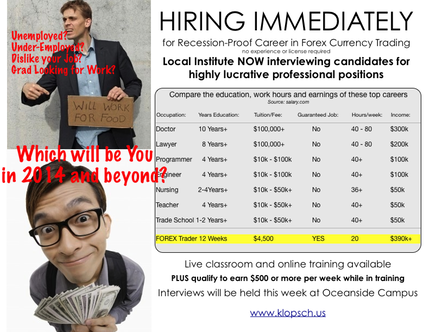 Please pop up the picture to compare our tuition fee of $3,500 and the income of a Forex Trader to other professions.
We offer an opportunity to recover your tuition fee and create additional income before you start making money by trading!